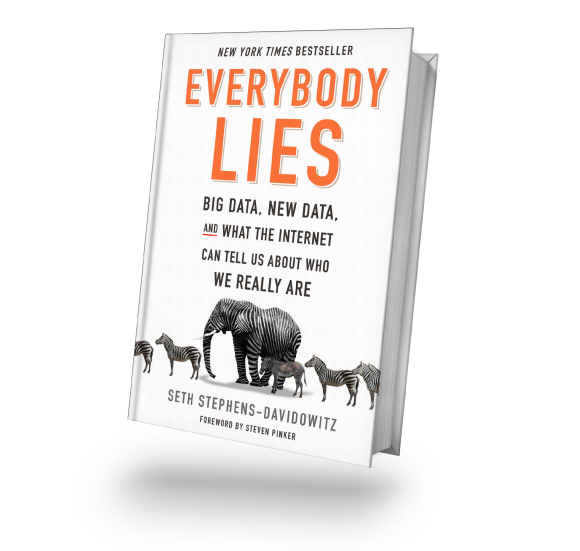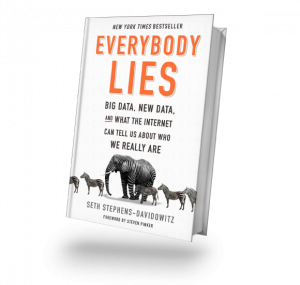 EVERYBODY LIES by Seth Stephens-Davidowitz
"a whirlwind tour of the modern human psyche using search data as its guide … The empirical findings in Everybody Lies are so intriguing that the book would be a page-turner even if it were structured as a mere laundry list. But Mr Stephens-Davidowitz also puts forward a deft argument: the web will revolutionise social science just as the microscope and telescope transformed the natural sciences."— The Economist
"argues persuasively for a mutiny in social science"— Peter Orszag, Bloomberg View
"Move over Freakonomics. Move over Moneyball. This brilliant book is the best demonstration yet of how big data plus cleverness can illuminate and then move the world."— Lawrence Summers, President Emeritus and Charles W. Eliot University Professor of Harvard University
Blending the informed analysis of The Signal and the Noise with the instructive iconoclasm of Think Like a Freak, a fascinating, illuminating, and witty look at what the vast amounts of information now instantly available to us reveals about ourselves and our world—provided we ask the right questions.
Everybody Lies offers fascinating, surprising, and sometimes laugh-out-loud insights into everything from economics to ethics to sports to race to sex, gender and more, all drawn from the world of big data. What percentage of white voters didn't vote for Barack Obama because he's black? Does where you go to school effect how successful you are in life? Do parents secretly favor boy children over girls? Do violent films affect the crime rate? Can you beat the stock market? How regularly do we lie about our sex lives and who's more self-conscious about sex, men or women?
Investigating these questions and a host of others, Seth Stephens-Davidowitz offers revelations that can help us understand ourselves and our lives better. Drawing on studies and experiments on how we really live and think, he demonstrates in fascinating and often funny ways the extent to which all the world is indeed a lab. With conclusions ranging from strange-but-true to thought-provoking to disturbing, he explores the power of this digital truth serum and its deeper potential—revealing biases deeply embedded within us, information we can use to change our culture, and the questions we're afraid to ask that might be essential to our health—both emotional and physical. All of us are touched by big data everyday, and its influence is multiplying. Everybody Lies challenges us to think differently about how we see it and the world.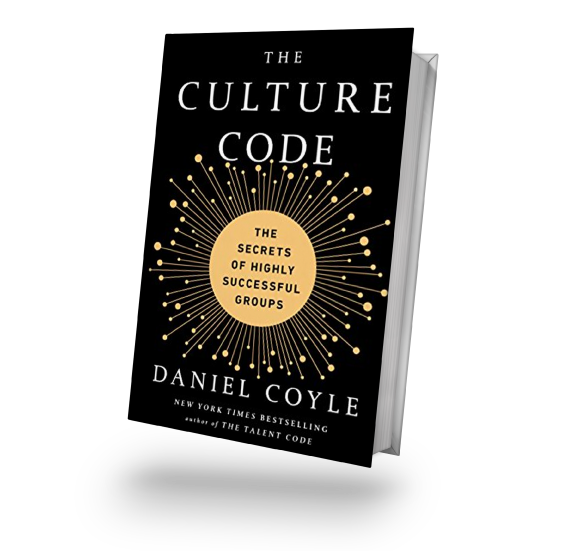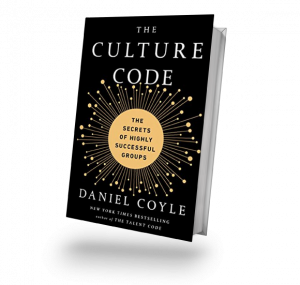 THE CULTURE CODE by Daniel Coyle
An essential book that unlocks the secrets of highly successful groups and provides readers with a toolkit for building a cohesive, innovative culture, from the New York Times bestselling author of The Talent Code.
Where does great culture come from? How do you build and sustain it in your group, or strengthen a culture that needs fixing?
In The Culture Code, Daniel Coyle goes inside some of the world's most successful organizations—including the U.S. Navy's SEAL Team Six, IDEO, and the San Antonio Spurs—and reveals what makes them tick. He demystifies the culture-building process by identifying three key skills that generate cohesion and cooperation, and explains how diverse groups learn to function with a single mind. Drawing on examples that range from Internet retailer Zappos to the comedy troupe Upright Citizens Brigade to a daring gang of jewel thieves, Coyle offers specific strategies that trigger learning, spark collaboration, build trust, and drive positive change. Coyle unearths helpful stories of failure that illustrate what not to do, troubleshoots common pitfalls, and shares advice about reforming a toxic culture. Combining leading-edge science, on-the-ground insights from world-class leaders, and practical ideas for action, The Culture Code offers a roadmap for creating an environment where innovation flourishes, problems get solved, and expectations are exceeded.
Culture is not something you are—it's something you do. The Culture Code puts the power in your hands. No matter the size of your group or your goal, this book can teach you the principles of cultural chemistry that transform individuals into teams that can accomplish amazing things together.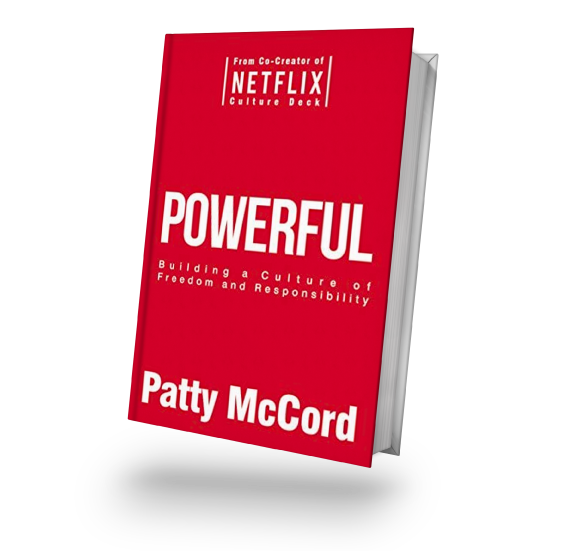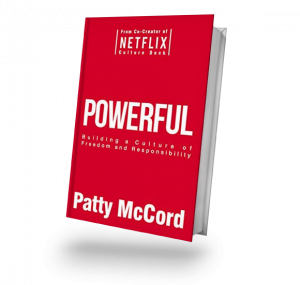 POWERFUL by Patty McCord
When it comes to recruiting, motivating, and creating great teams, Patty McCord says most companies have it all wrong. McCord helped create the unique and high-performing culture at Netflix, where she was chief talent officer. In her new book, Powerful: Building a Culture of Freedom and Responsibility, she shares what she learned there and elsewhere in Silicon Valley.
McCord advocates practicing radical honesty in the workplace, saying good-bye to employees who don't fit the company's emerging needs, and motivating with challenging work, not promises, perks, and bonus plans. McCord argues that the old standbys of corporate HR―annual performance reviews, retention plans, employee empowerment and engagement programs―often end up being a colossal waste of time and resources. Her road-tested advice, offered with humor and irreverence, provides readers a different path for creating a culture of high performance and profitability.
Powerful will change how you think about work and the way a business should be run.